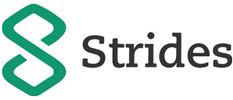 Strides
Strides Global Consumer Health Care (G-CHC) is a platform with a track record of innovation and first-to-market products in OTC health segments with unmet needs.
The Company's anchor brand – JointFlex, is the second fastest growing brand in the external analgesics category in the US.
G-CHC's science-based approach to product ideation and development differentiates it from OTC industry peers.