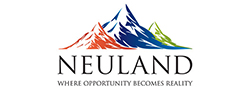 Neuland Group
Neuland is a leading manufacturer of active pharmaceutical ingredient (APIs) and intermediates, and an end-to-end solution provider in the contract research space. It has presence in over 80 countries, with strong focus on the US and European markets.
The Company provides solutions across the full range of the pharmaceutical industry's chemistry requirements, from the synthesis of library compounds to supplying NCEs and advanced intermediates at various stages in the clinical life-cycle, as well as commercial launch.
Neuland is listed on the National Stock Exchange (NSE) and the Bombay Stock Exchange (BSE) of India.